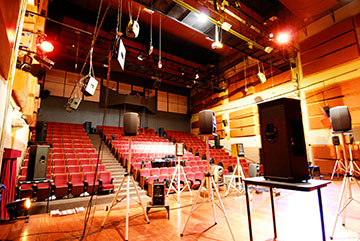 This October bring three opportunities of listening to my electroacoustic composition work: one concert in Piauí (North of Bra

zil

) and two in São Paulo.
October 6th, 20h, there will be a
a very special concert in the Café Concerto

from

SESC Caixeiral

in

Parnaíba, Piauí: memorial do granito (2015), for piano and electroacoustic sounds will be played for the first time in Brazil by Canada-based pianist Lu

ciane Cardassi,
for whom the p

iece was written and dedicated

. The

electroacoustic diffus

ion

is in charge of the composer Paulo Rios Filho, who organizes the concert and also presents his work Ramos. Follow here the programming from SESC Piauí.
Also October 6th, more than 3.000 km away, at 20h30 I'll be doing the diffusion of my acousmatic piece espectro jasmim (2012), with the 52-speakers orchestra

from

Studio PanAroma/Unesp, sharing the program with colleagues that are either students or alumni from

the studio

. This concert is part of the XI BIMESP, the

not-to-be-missed

Bienal de Música Eletroacústica de São Paulo, organiz

ed by

Studio PanAroma, under artistic direction of Flo Menezes. Take a look at the comple

te programming

here

and follow the event on

facebook.
Octo

ber

15th, 17h, the

project

Gestuário will be presented, together wit

h cellist

William Teixeira and dancer

Maíra Alves. It comprises a repertoire which in

vestigates

gestualities of instrumental and electronic sounds and contemporary dance in several poss

ible

combinations. I'll present

my

estudo sobre materiais resistentes nº 1

[
study

on resistant materials]

(2011-2016), in which written and electronic interferences are applied to th

e well-known

Suíte nº 2 in D minor (BMW 1008)

by

J. S. Bach. Program is completed b

y pieces by

Danilo Rosseti, Felipe de Almeida Ribeiro, Eduardo Frigatti e Felipe Merker Castellani, in which I'll be doing the

diffusion of electronic sounds

. Check here

the complete agenda of

estúdiofitacrepe-sp.